Bibliography - T++ Project Management Course
last modified
2006-10-09 11:23 PM
Must Read Books
The Mythical Man-Month: Essays on Software Engineering
by Frederick P. Brooks, Jr.
Published: 1995, Addison-Wesley
One of the most influential and useful books on IT project management ever written. If you read one book on the subject, this should be the one. This is a special silver anniversary edition.
From the Publisher
Few books on software project management have been as influential and timeless as The Mythical Man-Month. With a blend of software engineering facts and thought-provoking opinions, Fred Brooks offers insight for anyone managing complex projects. These essays draw from his experience as project manager for the IBM System/360 computer family and then for OS/360, its massive software system. Now, 20 years after the initial publication of his book, Brooks has revisited his original ideas and added new thoughts and advice, both for readers already familiar with his work and for readers discovering it for the first time.
The added chapters contain (1) a crisp condensation of all the propositions asserted in the original book, including Brooks' central argument in The Mythical Man-Month: that large programming projects suffer management problems different from small ones due to the division of labor; that the conceptual integrity of the product is therefore critical; and that it is difficult but possible to achieve this unity; (2) Brooks' view of these propositions a generation later; (3) a reprint of his classic 1986 paper "No Silver Bullet"; and (4) today's thoughts on the 1986 assertion, "There will be no silver bullet within ten years."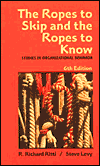 The Ropes to Skip and the Ropes to Know: Studies in Organizational Behavior
by R. Richard Ritti, Steven Levy
Published: 2002, Wiley, John & Sons
The best (and most readable) book on organizational behavior. Now in it's sixth edition.
From the Publisher
Updated to include current workplace issues, the new Sixth Edition of R. Richard Ritti's The Ropes to Skip and the Ropes to Know presents a series of interwoven stories about the operations at a single, fictional company seen through the eyes of Stanley, a recent college graduate. As you follow Stanley through his many, successes and failures, you'll experience the psychological processes and social mores at work in today's organizations.
Core Curriculum
Agile Software Development
by Alistair Cockburn
Published: 2001, Addison-Wesley
Core concepts and ideas behind the Agile Manifesto. The best introduction to Agile Methodologies.
From the Publisher
Written for developers and project managers, Agile Software Development compares software development to a game. Team members play the game knowing that the ultimate goal is to win—always remembering what they have learned along the way, and always keeping in mind that they will never play the same way twice. Players must keep an open mind to different methodologies, and focus on the goal of developing quality software in a short cycle time.
Based on a decade's work and research, and interviews with software project teams, this book presents sound advice for bringing difficult projects to successful conclusion with a minimum of stress.
Agile and Iterative Development: A Manager's Guide
by Craig Larman
Published: 2003, Addison-Wesley
Many extremely practical tips about Agile project management. Includes hard information on why SDLC doesn't work.
From the Publisher
This is the definitive guide for managers and students to agile and iterative development methods: what they are, how they work, how to implement them--and why you should.
Using statistically significant research and large-scale case studies, noted methods expert Craig Larman presents the most convincing case ever made for iterative development. Larman offers a concise, information-packed summary of the key ideas that drive all agile and iterative processes, with the details of four noteworthy iterative methods: Scrum, XP, RUP, and Evo.
Agile Management of the Software Engineering
by David J. Anderson
Published: 2003, Prentice Hall
The source of the materials on the Theory of Agile Management taught in the course.
From the Publisher
A breakthrough approach to managing agile software developmentAgile methods might just be the alternative to outsourcing. However, agile development must scale in scope and discipline to be acceptable in the boardrooms of the Fortune 1000. In Agile Management for Software Engineering, David J. Anderson shows managers how to apply management science to gain the full business benefits of agility through application of the focused approach taught by Eli Goldratt in his Theory of Constraints.
Whether you're using XP, Scrum, FDD, or another agile approach, you'll learn how to develop management discipline for all phases of the engineering process, implement realistic financial and production metrics, and focus on building software that delivers maximum customer value and outstanding business results.
CompTIA Project+ Certification
Organizations Through the Eyes of a Project Manager
by Harvey F. Hoffman
Published: 2002, Prentice Hall
This book covers most of the major topics required by the CompTIA Project+ Certification exam. Won't be of much help in terms of helping make you a good project manager, but it will help you pass the test. It also provides some useful information about the structure of large organizations and how they think.
From the Publisher
This book examines the project manager's role in an organization, and explains how to get a job done on time, within budget, and without compromising quality targets. A comprehensive, well-organized, and easy-to-read guide, this book assists the user in their preparations for the Project+ certification examination offered by CompTIA and the Certified Associate in Project Management (CAPM) offered by the Project Management Institute. This book covers many of the topics required by the CompTIA Project+ examination, including the organization's expectations; organization structures and professionalism; management concepts; leadership, teams, and project lifecycle; project planning, objectives, statement of work, and the work breakdown structure; time management; introduction to Microsoft Project; project cost management; cost estimating and learning curves; project communications; quality planning, assurance, and control; and risk management. For associate project managers and assistant project managers.
Other Useful Books
UML Distilled: A Brief Guide to the Standard Object Modeling Language, 3rd Edition
by Martin Fowler
Published: 2003, Addison-Wesley
A good and simple introduction to the Unified Modeling Language (UML). This latest edition covers the new UML version 2.0.
From the Publisher
More than 300,000 developers have benefited from past editions of UML Distilled. This third edition is the best resource for quick, no-nonsense insights into understanding and using UML 2.0 and prior versions of the UML.
This book describes all the major UML diagram types, what they're used for, and the basic notation involved in creating and deciphering them. These diagrams include class, sequence, object, package, deployment, use case, state machine, activity, communication, composite structure, component, interaction overview, and timing diagrams. The examples are clear and the explanations cut to the fundamental design logic.
Writing Effective Use Cases
by Alistair Cockburn
Published: 2000, Addison-Wesley
The most comprehensive introduction to writing effective use cases. Another great book by Cockburn.
From the Publisher
Writing use cases as a means of capturing the behavioral requirements of software systems and business processes is a practice that is quickly gaining popularity. Use cases provide a beneficial means of project planning because they clearly show how people will ultimately use the system being designed. On the surface, use cases appear to be a straightforward and simple concept. Faced with the task of writing a set of use cases, however, practitioners must ask: "How exactly am I supposed to write use cases?" Because use cases are essentially prose essays, this question is not easily answered, and as a result, the task can become formidable.
In Writing Effective Use Cases, object technology expert Alistair Cockburn presents an up-to-date, practical guide to use case writing. The author borrows from his extensive experience in this realm, and expands on the classic treatments of use cases to provide software developers with a "nuts-and-bolts" tutorial for writing use cases. The book thoroughly covers introductory, intermediate, and advanced concepts, and is, therefore, appropriate for all knowledge levels. Illustrative writing examples of both good and bad use cases reinforce the author's instructions. In addition, the book contains helpful learning exercises—with answers—to illuminate the most important points.
The Rational Unified Process: An Introduction
by Philippe Kruchten
Published: 2003, Addison-Wesley
The latest edition of this book, which is a clear and concise introduction to the RUP method by the lead architect at Rational. Probably the only book you would or should ever read on the subject.
From the Publisher
This concise book offers a quick introduction to the concepts, structure, content, and motivation of the Rational Unified Process. This revolutionary software development process provides a disciplined approach to assigning, managing, and completing tasks within a software development organization and is the first development process to exploit the full capabilities of the industry-standard Unified Modeling Language. The Rational Unified Process is unique in that it captures many of the proven best practices in modern software development and presents them in a form that can be tailored to a wide range of projects and organizations. In this book, you will discover: what the Rational Unified Process is - and what it is not; the concepts used in the Rational Unified Process, as well as its structure; the best practices that have been synthesized into this process; and how this process can provide the guidance you need for your specific project responsibilities.
Agile Software Development Ecosystems
by Jim A. Highsmith, Donald Eastlake
Published: 2002, Addison-Wesley
A good overview of all the various major agile methods, including interesting interviews with core Agile practioners and method creators. A bit overblown with Agile hype.
From the Publisher
Jim Highsmith knows all seven leading approaches like the back of his hand. In Agile Software Development Ecosystems, he compares all seven, helping you customize the right approach to your unique requirements. Drawing upon interviews with the creators of each methodology, he illuminates Scrum, the Dynamic Systems Development Method, CrystalMethods, Feature-Driven Development, Lean Development, his own Adaptive Software Development (ASD), and the best-known of them all, Kent Beck's eXtreme Programming.
Extreme Programming Explained: Embrace Change
by Kent Beck
Published: 1999, Addison-Wesley
An introduction to the best known Agile method by one of its creators.
From the Publisher
Extreme Programming (XP) was conceived and developed to address the specific needs of software development conducted by small teams in the face of vague and changing requirements. This new lightweight methodology challenges many conventional tenets, including the long-held assumption that the cost of changing a piece of software necessarily rises dramatically over the course of time. XP recognizes that projects have to work to achieve this reduction in cost and exploit the savings once they have been earned.